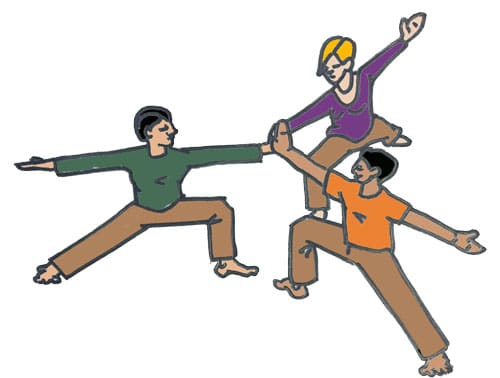 Yoga postures that are done in a circle creating sacred space, there are many posture unique to Mandala Yoga. This is a wonderful, complementary activity to HuMandalas.

Stand with a wrist connection, step out of the circle with your left foot, bend your knee so that your kneecap is directly above your foot and extend your left arm out with palm up.
Look out towards your fingers taking a deep breath together, being reflections of positive light. Come back to center and connect with the other side.
Learn Mandala Yoga in your area!
These are a few teachers that we'd recommend.
This is a project to get in tune with the needs of deprived villages in 3rd world countries using 'Flying AcroYoga,' 'Synergy Circles' and other connected yogic activities. Daniel Levy, HuMandalas founder, trained with Synergy's, Francisco Morales Bermudez and is a certified synergy teacher.
Recognizing the power of embodied collaboration as a catalyst for connection, healing and innovation, Deborah Dove Eudene presents Mandala Yoga and other embodiment based group processes at gatherings, conferences, land based communities, retreats, corporations and teambuilding events in Hawaii, the US, and internationally. Mandala Yoga is an evolving modality that can be especially beneficial to build group cohesion and explore interactions amongst people and organizations that are engaged in collaborative efforts. Sessions and trainings are also instructive for individuals who wish to learn more about their patterns in relation to personal power, group energy, and the web of life. Workshops can be tailored to the specific needs of your group. www.mandalayoga.us
Kaleidoscope Community Yoga is a community yoga project started in Bellingham, Washington. The project was founded to establish a culture of practicing yoga together in community.
Choose to Connect Culture!
Create HuMandalas!
Post your photos to open new possibilities...